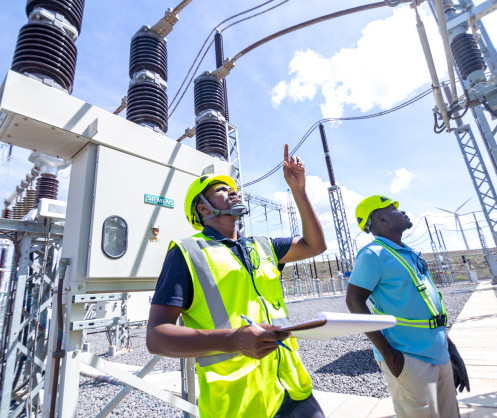 The second phase of the Last Mile Connectivity Project, implemented in Kenya between 2016 and 2022, has helped improved access to electricity for low-income groups. At least 1.6 million people now have access to power, according to the Project Completion Report published by the African Development Bank on 11 August 2023.
Funded with a loan of $134.64 million from the African Development Bank Group, the project has added about 18 thousand kilometres of low-voltage lines to the distribution system, connecting some 322,279 households and small businesses to the national grid. An average household in Kenya has five people.
The project supported the re-establishment of the Kenya Power and Lighting Company (KPLC) tree seedling nursery, which had been in ruins due to drought from mid-2019 to the end of 2022 and locust infestation that stripped every young tree and crop around the nursery, as well as the impact of the Covid-19 pandemic.
The project awarded contracts worth around $9.07 million to local electricity suppliers, boosting economic activities.
The project provided ready-to-use kits – including a socket and a light bulb- at no cost to households headed by women
The project has improved living conditions and helped develop socio-economic activities in the beneficiary communities. To most beneficiaries, lighting their homes was a dream come true and less expensive than using paraffin-fuelled lanterns (known as akaloboyo in the local language), with its associated health risks.
The project has spurred income-generating activities, such as poultry farming, livestock farming, and grass cutting for cattle and dairy farming. This has helped to reduce poverty, one of the leading causes of gender inequality. Activities such as joinery, arc welding and hairdressing salons are just some occupations buoyed by the availability of electricity. A group of 30 young people – half of them women – have started a poultry farm using funds raised by its members.
The project provided ready-to-use kits – including a socket and a light bulb- at no cost to households headed by women.
"Overall, despite the major challenges the country went through in 2017-2022, the project delivered almost all of the target outputs and outcomes, particularly those fundamental to the project's development objective," concludes the Project Completion Report.
About the African Development Bank Group:
The African Development Bank Group (AfDB) is the premier multilateral financing institution dedicated to Africa's development. It comprises three distinct entities: the African Development Bank (AfDB), the African Development Fund (ADF) and the Nigeria Trust Fund (NSF). The AfDB has a field presence in 41 African countries, with an external office in Japan, and contributes to the economic development and social progress of its 54 regional member states. For more information: www.AfDB.org