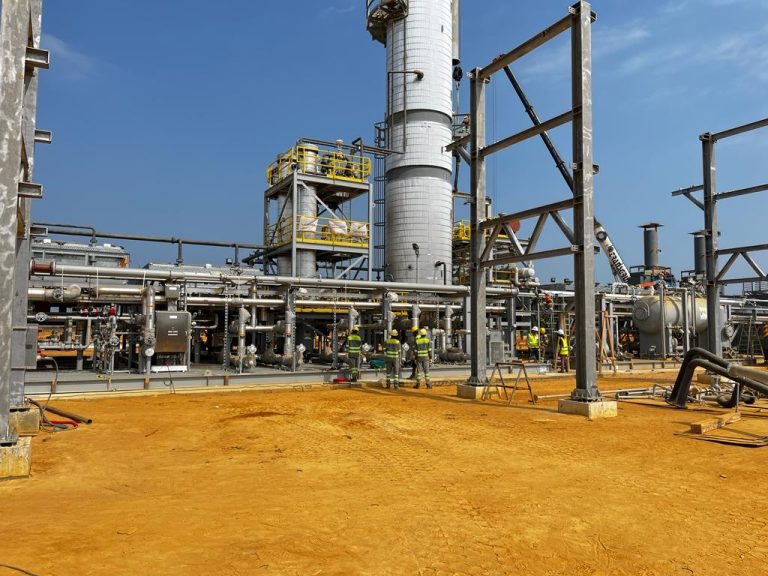 On completion of phase 1, the refinery will process 30,000 barrels of crude oil per day, delivering c. 10% of the country's total demand for refined oil products
Gemcorp Holdings Limited (GHL), Africa Finance Corporation (AFC) and African Export-Import Bank (Afreximbank) are pleased to announce the financial close of the Cabinda Oil Refinery in Angola. The US$473 million project is financed through US$138 million of equity already provided by the project sponsors and US$335 million project financing facility led by AFC, Afreximbank and a consortium of international and local financial institutions. The project is being developed by GHL in partnership with Angola's state oil company, Sonangol.
The credit facility covers the first phase of the project and paves the way for construction, which will enable the processing of 30,000 crude oil barrels a day. In due course, the second phase will add another 30,000, bringing the refinery's refining capacity to 60,000 barrels a day on completion.
Upon completion of the first phase, the refinery is envisioned to deliver ~10% of the country's total demand for refined oil products, increasing to ~20% upon completion of phase 2, while creating over 1300 direct and indirect jobs in the process. To date, there have been 300,000 man-hours of training completed for the upskilling of local employees, with 1,000,000 man-hours worked on the project, all completed injury free.
The project stands to make Angola energy independent while leveraging its natural resources for the benefit of the community and the wider economy
Other lenders also contributing to the project financing facility include The Industrial Development Corporation (IDC) of South Africa, The Arab Bank for the Economic Development in Africa (BADEA) and Banco de Fomento Angola (BFA).
This investment is playing a critical role in Angola's energy security and delivering local employment opportunities while furthering the nation's technological capabilities. It will also reduce the country's reliance on imports to meet its current energy needs.
Gemcorp Chief Executive Officer, Atanas Bostandjiev said, "We are extremely excited to be making this investment in the Cabinda Oil Refinery. The project stands to make Angola energy independent while leveraging its natural resources for the benefit of the community and the wider economy. We have benefitted immensely from the local expertise made possible by working closely with the Sonangol team and our partners, Africa Finance Corporation and Afreximbank, who share our vision to deliver this monumental life-changing infrastructure."
Africa Finance Corporation President & CEO, Samaila Zubairu said, "We are delighted to announce the successful financial close of this groundbreaking refinery project. This structural transformation project is in line with our vision to capture and retain value in the Angolan economy while reducing carbon emissions by eliminating two wasteful voyages involved in exporting crude oil as raw materials and importing it back as refined product. Cabinda Refinery will generate significant employment opportunities which will help to build the skilled workforce of the future. It will save valuable foreign exchange and enhance Angola's balance of payments. It will create spin-off industries that rely on the output of the refinery thereby boosting the economy and driving long-term economic growth. We look forward to collaborating with stakeholders to continue driving forward the sustainable development of our continent."
Professor Benedict Oramah, President, and Chairman of the Board of Directors of Afreximbank, said, "Afreximbank is proud to contribute to such a crucial project for Angola and the wider region. Our participation in arranging the US$335 million financing together with our partners at AFC and Gemcorp, makes the project possible and will guarantee that it delivers development dividends in Angola and elsewhere in Africa. The establishment of a modular oil refinery in Cabinda will add critical value to Angola's main commodity and its largest export product, while contributing to a reduction in greenhouse gases by reducing the need to transport crude and refined products to and from Africa. Afreximbank remains committed to playing a vital role in stimulating economic growth on the continent. We look forward to boosting intra-African trade through the supply of refined products from Angola to near markets."
About Gemcorp Holdings Limited (GHL):
Gemcorp Holdings Limited (GHL) is the majority shareholder of Cabinda Oil Refinery. GHL comprises of several companies including Gemcorp Capital Management Ltd, an independent investment management firm focused on emerging markets and regulated by the FCA in the U.K. The firm has facilitated over US$7 billion worth of investments in public and private credit and equity transactions since inception. The firm is looking to invest at least $10 billion in Africa over the next decade, mainly in the form of debt transactions in partnership with other institutional investors, alongside private equity investments on a selective basis.
About Africa Finance Corporation (AFC):
Africa Finance Corporation (AFC) was established in 2007 to be the catalyst for private sector-led infrastructure investment across Africa. AFC's approach combines specialist industry expertise with a focus on financial and technical advisory, project structuring, project development, and risk capital to address Africa's infrastructure development needs and drive sustainable economic growth. Sixteen years on, AFC has developed a track record as the partner of choice in Africa for investing and delivering on instrumental, high-quality infrastructure assets that provide essential services in the core infrastructure sectors of power, natural resources, heavy industry, transport, and telecommunications. AFC has 40 member countries and has invested US$11.5 billion across Africa since inception.
About African Export-Import Bank (Afreximbank):
Afreximbank is a Pan-African multilateral financial institution mandated to finance and promote intra-and extra-African trade. For 30 years, the Bank has been deploying innovative structures to deliver financing solutions that support the transformation of the structure of Africa's trade, accelerating industrialization and intra-regional trade, thereby boosting economic expansion in Africa. A stalwart supporter of the African Continental Free Trade Agreement (AfCFTA), Afreximbank has launched a Pan-African Payment and Settlement System (PAPSS) that was adopted by the African Union (AU) as the payment and settlement platform to underpin the implementation of the AfCFTA. Working with the AfCFTA Secretariat and the AU, the Bank is setting up a US$10 billion Adjustment Fund to support countries to effectively participate in the AfCFTA. At the end of 2022, Afreximbank's total assets and guarantees stood at over US$31 billion, and its shareholder funds amounted to US$5.2 billion. The Bank disbursed more than US$86 billion between 2016 and 2022. Afreximbank has investment grade ratings assigned by GCR (international scale) (A), Moody's (Baa1), Japan Credit Rating Agency (JCR) (A-) and Fitch (BBB). Afreximbank has evolved into a group entity comprising the Bank, its impact fund subsidiary called the Fund for Export Development Africa (FEDA), and its insurance management subsidiary, AfrexInsure, (together, "the Group").