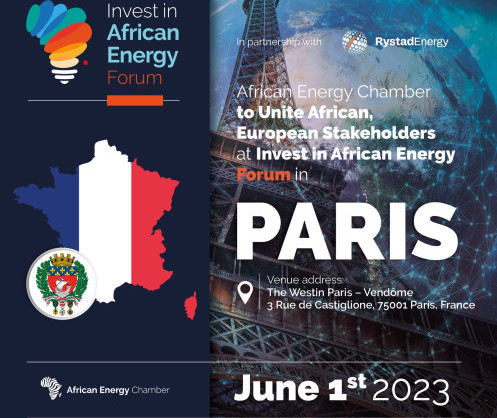 The African Energy Chamber (AEC) (www.EnergyChamber.org) is taking its Invest in African Energy Forum to Paris for the next leg of its investment tour. Taking place on June 1 at the Westin Paris Vendome, the Paris edition will serve as the premier networking function for European investors and African policymakers, with the event showcasing partnership opportunities, strengthening Africa-Europe relations and kickstarting new developments in pursuit of global energy security.
Hot on the heels of three European receptions that took place London, Oslo and Frankfurt, as well as a UAE event held in Dubai, the Paris forum will not only open new opportunities for Europe-Africa collaboration but will advance already forged ties between African countries and French-based investors and companies. During the forum, discussions will be centered on financing African energy projects; developing Liquefied Natural Gas (LNG) for both African and European markets; and the role renewable energy and green hydrogen will continue to play in industrializing and electrifying Africa.
For years, France has played an instrumental role in helping Africa unlock the full potential of its energy sector, providing capital, developing large-scale projects while facilitating technology and skills transfer. From ambitious upstream campaigns to developing key solar, wind and hydropower assets, France continues to strengthen its relationship with a suite of African countries.
On the oil front, companies such as TotalEnergies have been key in advancing E&P projects across almost every oil-rich country in Africa. Having operated in major producing countries such as Angola, Libya and Nigeria for a number of years, the company is opening up other promising markets in Africa by developing projects such as the Lake Albert Development in Uganda; an ambitious exploration campaign offshore South Africa; and a major discovery in Namibia, among many others. The company is also taking strides towards developing natural gas reserves through projects such as the Mozambique LNG project and South Africa's Luiperd and Brulpadda finds. French-based E&P company Perenco has also been advancing its footprint in Africa, acquiring assets in Chad, Congo, DRC, and Cameroon while driving large-scale developments such as the Gabon LNG project.
The Invest in African Energy Paris edition aims to build on existing Africa-Europe relations to usher in a new era of energy-related growth and prosperity
On the power and renewables front, companies such as Engie – a French multinational electric utility company – continue to make moves across the African power industry, working closely with governments to expand electrification as well as the penetration of renewable energy. Operating in over 20 African countries, Engie has been responsible for expanding electricity production and distribution and has made significant progress in accelerating renewable energy developments. Additionally, power producer EDF has also been advancing generation and distribution with projects in Morocco, Senegal, Cameroon, South Africa, among other African countries.
Several E&P, service, and financial companies, including Technip Energies, Schlumberger have reaffirmed their dedication to enhancing local content by implementing several capacity-building programs.
France has become a prominent financial ally to Africa at a national level, offering funding for numerous energy projects in partnership with other European investors. Over the years, the country has contributed to the continent significantly, including a €6-million grant to the African Development Bank for the Africa Renewable Energy Initiative in 2016, €300 million in concessional financing to South Africa through loan agreements in 2022, and an investment fund of $92.63 million established in the same year to support solar power generation throughout Africa, among other financial packages. The country is eager to advance investment in Africa in pursuit of global energy security, and the Invest in African Energy Paris edition provides the perfect platform to do just that.
"Africa needs investment to not only meet its own goals of making energy poverty history and industrializing but to help meet global goals of energy security. The Invest in African Energy Paris edition aims to build on existing Africa-Europe relations to usher in a new era of energy-related growth and prosperity. By showcasing projects, investment prospects and collaboration opportunities, the event will position Africa as the destination of choice for both French and European investment. We look forward to welcoming a strong slate of government representatives from Africa as well as major financiers and project developers from across Europe in Paris on June 1st ," states NJ Ayuk, Executive Chairman of the AEC.
During the Invest in African Energy Paris reception, delegates will have the chance to meet and network, leading to new business opportunities, partnerships and collaborations. With a series of presentations and panel discussions on the cards, the reception will offer insights into the current state of the African energy sector while providing valuable information for companies and financiers looking at investing in Africa. From meeting with experts and leaders to sharing insights and best practices, the reception will lay the foundation for new European players to enter the African market.
Taking place on June 1st 2023, the Invest in African Energy Paris Event is open to all guests and RSVP is essential. RSVP to registration@aecweek.com