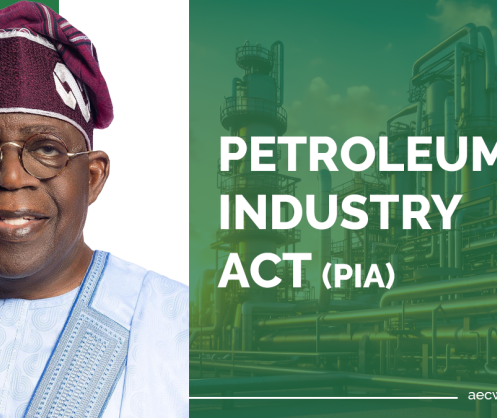 By NJ Ayuk, Executive Chairman, African Energy Chamber (www.EnergyChamber.org).
For years, on behalf of the African Energy Chamber (AEC), I publicly encouraged Nigeria's leadership to sign the Petroleum Industry Bill (PIB) into law.
Across its five chapters and 300 sections, the PIB promised to repeal all regulations pertaining to Nigeria's oil and gas industry, effectively resetting decades of policy gridlock regarding fiscal imbalances and the detrimental effects of crime and corruption. In place of these regulations, the PIA offered a new framework for the industry to abide by, one that would place Nigeria back on track toward progress and prosperity.
On August 16, 2021, we were thrilled to see former President Muhammadu Buhari enact the law — now known as the Petroleum Industry Act (PIA) — making all its promising provisions official at long last.
Nearly two years from its passage into law, implementation of the PIA and its initiatives has been slow for numerous reasons, but not without progress, and signals from Nigeria's new administration indicate that these conditions will not remain the status quo.
After ascending to office in May, Nigeria's newly elected president, Bola Ahmed Tinubu, hit the ground running in terms of reshaping his country's approach to petroleum industry relations and preparing to execute the mandates of the PIA.
In July of this year, President Tinubu received the Shell Petroleum Development Company (SPDC) at the State House in Abuja, assuring its delegates that Nigeria welcomes their business and that his administration is working to remove any policy or procedural bottlenecks detracting from the investment appeal of Nigeria's gas and deep-water assets.
Considering these recent statements from President Tinubu and a recently released report from his administration's Policy Advisory Council entitled Enabling Growth in Nigeria's Energy & Natural Resources Sectors: Sector Challenges and Proposed Interventions, Nigeria's leadership seems intent on revitalizing the entire energy landscape across the country.
A Need for Intervention
The signing of the PIA represented the culmination of more than 20 years of efforts to reform an oil and gas sector plagued by long-standing problems on multiple fronts.
Despite its long-held status as Africa's largest oil producer, and sixth largest in the entire world at times, 2022 saw Nigeria drop to fourth place in the African rankings behind Angola, Algeria, and Libya. With its 37.1 billion barrels of proven crude oil reserves and 206.5 trillion cubic feet of natural gas, traditionally, petroleum products comprise nearly 6% of Nigeria's gross domestic product, 95% of earnings from foreign trade, and 80% of government revenues.
In defiance of these significant averages, Nigeria's oil production rate has declined in recent years, down to an average of 1 million barrels per day (mmbpd), nearly halving its OPEC quota of 1.8 mmbpd. Large-scale theft, sabotage, and pipeline vandalism account for much of this drop.
While the combined security efforts of Nigerian military forces and other government agencies under the previous administration did lead to the recovery of millions of liters of petroleum products in their various forms, they did not have a meaningful effect on the downward trend in production. Nigeria's failure to adequately secure its infrastructure and rein in these production losses has also led international oil companies toward divestment from the region. Nigerian oil and gas sector will be one of the main attractions of the Africa Energy Week (AEW) 2023, which will be held in Cape Town from October 16th to 20th.
With President Tinubu's endorsement and proactive stance on its directives, we hope to see the PIA's terms fulfilled and Nigeria finally reoriented toward a more prosperous era
Hope on the Horizon
The PIA aims to reverse Nigeria's course regarding its energy future. With President Tinubu's endorsement and proactive stance on its directives, we hope to see the PIA's terms fulfilled and Nigeria finally reoriented toward a more prosperous era.
Efforts to overhaul the Nigerian oil and gas industry date at least as far back as the year 2000 when the Obasanjo administration inaugurated the Oil and Gas Reform Implementation Committee, whose investigations into the Nigerian energy sector eventually led to the PIA's initial drafts.
First introduced in 2008, the PIB was subject to years of setbacks as legislators debated its content and submitted revisions. The version finally signed into law in 2021 addresses four main areas of concern for Nigeria's petroleum industry: governance and institutions, administration, host community development, and the fiscal framework. In short, the PIA seeks to convert the governance of Nigeria's petroleum sector into a more commercial model.
Last summer, the AEC celebrated when the Nigerian National Petroleum Company (NNPC) transitioned to NNPC Limited, a move denoting initial progress toward implementing the provisions outlined in the PIA. This transition represented a shift in how the NNPC would conduct business going forward. Free from Federal Executive Council oversight, the NNPC Limited could now pursue new ventures, become more public-facing with a stock market listing, and compete with other state-owned petroleum companies. As NNPC Limited, the company has already engaged in re-negotiations of the production-sharing contracts tied to five deepwater blocks, successfully untangling them from decades of disputes.
The transition hasn't been as smooth for other Nigerian entities affected by the new standards put forth by the PIA. Delays in collaboration between groups like the Nigerian Midstream and Downstream Petroleum Regulatory Authority (NMDPRA) and the Nigerian Upstream Petroleum Regulatory Commission (NUPRC), attributed to incomplete agenda items like the Environmental Management Plan (EMP) and the Upstream Environmental Management Regulation (UEMR), have stalled the PIA's full implementation. However, leaders at these authorities have affirmed their commitment to the change and have encouraged all stakeholders to expedite the process.
As detailed in the Policy Advisory Council's report, President Tinubu and his administration are well aware of Nigeria's low ratio of revenue to GDP, low investor confidence, and monetary losses in the petroleum sector. However, the report also outlines a path toward a full reversal of these circumstances.
On a timetable covering the first 100 days and stretching outward to 2030, the Policy Advisory Council's report explains how Nigeria's petroleum industry can eventually achieve sustainable production rates of 4 mmbpd for oil and 12 billion cubic feet per day (bcf/d) for natural gas.
The Tinubu administration's short-term goals include recruiting and placing competent leaders in the various ministries, departments, and agencies accountable to the PIA, reforming military task force operations for security, and defining fiscal policies. Moving into 2024—in addition to other security, finance, and regulatory measures—the report calls for promoting a diversified oil and gas industry and developing a gas export strategy.
Attaining Nigeria's Ideal Future
The Policy Advisory Council's structured and detailed report sets key performance indicators and milestones for Nigeria in the years ahead, plotting a course to a stabilized and flourishing future for the national economy and its population. The report also serves as a testament to the current administration's intent to make this future a reality.
As one of the PIB's most vocal supporters — having recognized its potential as a mechanism for correcting worsening conditions in Nigeria's energy sector and reinvigorating foreign investment — I urged the previous administration to pass the bill. Considering its slow start despite having been passed into law, these recent and positive developments have given me more confidence that we will see the law fully implemented.
Nigeria still sits atop a wealth of fossil resources that offers up an end to energy poverty and financial instability as long as they are extracted and monetized responsibly and in a manner that benefits all stakeholders. The steps laid out in the Policy Advisory Council's report lead to this exact outcome, but getting there depends entirely on the full implementation of the PIA.
I implore all of Nigeria's leaders to continue working with one another to achieve this most critical goal.