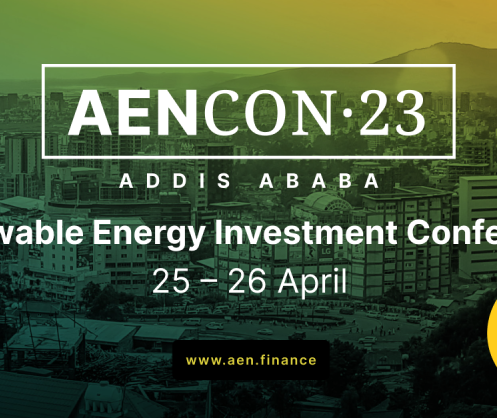 The AENCon23 Renewable Energy Investment Conference (www.AEN.finance) will be held at the Sheraton Hotel in Addis Ababa, Ethiopia from 25-26 April 2023 to engage international financiers and technology providers on renewable energy investment opportunities in Ethiopia and Tanzania.
In partnership with the Ministry of Water and Energy of Ethiopia and the Ministry of Energy of Tanzania and their respective utility companies, African Energy Now is hosting AENCon23 to showcase concrete opportunities in existing and upcoming renewable energy projects, including in solar, wind, hydro and geothermal energy.
According to Moritz Weigel, Executive Director, African Energy Now:
Tanzania, with a population of 62 million and steady economic growth, is well endowed with solar, wind, hydro and geothermal energy sources
"AENCon23 will allow participants to gain latest insights into the renewable energy sector of Ethiopia and Tanzania and to engage bilaterally with decision-makers through pre-scheduled 1-on-1 meetings throughout the two conference days. We look forward to welcoming financial institutions and technology providers in the beautiful and vibrant city of Addis Ababa".
Ethiopia, with a population of 120 million and strong economic growth, has a rapidly increasing demand for electricity. The Government of Ethiopia aims to invest USD 40 billion over the next ten years to expand its hydropower generation capacity, while also increasing power generation from solar, wind and geothermal sources. Ethiopia has undertaken comprehensive reforms to attract investment into its renewable energy sector, including by restructuring its utility companies, introducing a new public-private partnership (PPP)/independent power producers (IPPs) framework, and paving the way for becoming a regional power supplier to neighboring countries as part of the Eastern Africa Power Pool.
Tanzania, with a population of 62 million and steady economic growth, is well endowed with solar, wind, hydro and geothermal energy sources. The Government of Tanzania is committed to the energy transition and entered into a series of new international partnerships for unleashing the country's vast renewable energy potential. To facilitate investment in the sector, the government has converted debt of its utility companies into equity in a move to strengthen the companies' balance sheets. At the United Nations Climate Change Conference COP 27 in November 2022, President Samia Suluhu Hassan presented a USD 18 billion investment case for powering the Southern African Power Pool with renewables. Tanzania is part of both the Eastern and the Southern African power pools and therefore holds great potential to serve regional and inter-regional power supplier.
For more information about AENCon23, please visit https://apo-opa.info/3KoTvUW